Well, the Papal visit to Philadelphia is in the past and everyone is now counting up how many people were on which streets at which events. What difference does it make? We showed the world that we are a WORLD-CLASS CITY with a kind, generous, patient, and caring "att-y-tood" – a city that should and will attract world leaders.
It was all we in Philadelphia could talk about – should we stay or should we go? Are you closing your office on Friday, Thursday, Monday? What are those concrete barriers? How did the streets get so clean? But, all that conversation allowed us to be friends with those office mates we never talk to, to chat with the newsstand dealer who typically just hands us the paper and takes our money, to converse with the folks in the elevator who we never look at because we're always texting or looking at our phones in the elevator. We now demonstrated that we had something in common and something to look forward to.
After what seems like years of preparation, we did it! The city leaders, the police and other security professionals made us feel safe. Sure, a few glitches in terms of waiting too long to get through security. But, were we ever worried about our safety? No.
As a market research firm, we couldn't help but do a survey in anticipation of the event… we asked our respondents (an unscientific poll) how many people they felt would actually attend the final event on Sunday. The average projected attendance from our poll is 578,850… bet that's going to be close to accurate!!! That's why polling works!
Personally, I had only two major disappointments: 1) that there were organizations that were determined to price gouge during the celebration – come on, $40 to park in a lot in Chestnut Hill in order to walk to the train? One of my friends said a parking ticket for staying too long at a meter is only $25!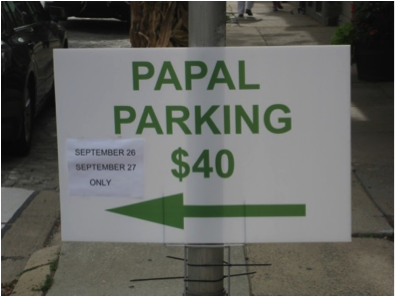 And 2) that more people weren't able to take advantage of the wonderful restaurants and shops in Center City – the attention was on the event and not on everything that is going on in Philadelphia. We should now put more effort into demonstrating to these restaurants and shops how happy we are that they are there for us.
After Pope Francis visited D.C. and N.Y.C., he saved the best for last. For one of the largest cities in the U.S., Philadelphians' friendship and warmth came through and we should all be proud of what we showed to the world.
---
The Melior Group was founded in 1982 to bring the disciplines of marketing research to service industries. Today, Melior is one of the region's leading research-based consulting firms, serving organizations in the education, non-profit, healthcare, government, leisure, tourism, and financial services/ insurance sectors.
For more information or to request a proposal, please contact Linda McAleer at [email protected] or Contact Us.