Career Wardrobe, a Philadelphia nonprofit, calls for people to "imagine a place where every woman in transition can obtain the confidence she needs in order to achieve the next level of gainful employment."
During its inaugural year in 1995, the then-named "Working Wardrobe" passed out 938 donated suits to women starting their professional journeys. By 2008, the group celebrated its 50,000th client – proving that women across Philadelphia workplaces have felt the organization's impact. Now in its 21st year, Career Wardrobe continues to build on its mission of helping women break out of the cycle of poverty by providing support that encourages employment and personal responsibility.
This month's Melior People of the Moment are the staff and volunteers of Career Wardrobe. We at The Melior Group feel a special kinship with the organization as our President and founder, Linda McAleer, currently serves as a Board Member.
Career Wardrobe has helped Philadelphia-area residents for the past two decades through a comprehensive list of services, including:
The Boutique
Dress and Image Consultation Program
Gateway to Success Job Readiness and Blitz Basic Courses
Professional Development Certificate
Career Coaching
Computer Lab for Job Searching and Networking
Through the years, the organization has continually sought to understand the needs of the community and has adapted to meet those needs. For example, just last year Career Wardrobe launched Make it Work for Men, which expands the dressing services to men in transition. A population as diverse as Philadelphia requires different types of programs to achieve a common goal of professional and career advancement.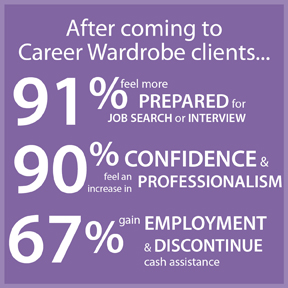 Career Wardrobe's results speak for themselves: In 2014, 67% of women responding to Career Wardrobe's follow-up surveys within six months of their appointments reported gaining employment and discontinuing their reliance on cash assistance. The impact on Philadelphia's economy is significant: a $19 million savings for taxpayers in public assistance for benefits alone.
In our view from Walnut Street, Career Wardrobe is providing Philadelphia citizens, workers, and employers with a vital service. As a women-owned business, we are particularly proud to support Career Wardrobe's mission and empower women in their professional journeys.
Career Wardrobe now has locations in Philadelphia and Bucks and Delaware Counties, and also partners with organizations in Berks, Chester and Montgomery Counties. As the organization expands, so will its beneficial impact through the Greater Philadelphia area.
---
For more information, contact Linda McAleer at [email protected] or 215-545-0054 x104 or Contact Us.